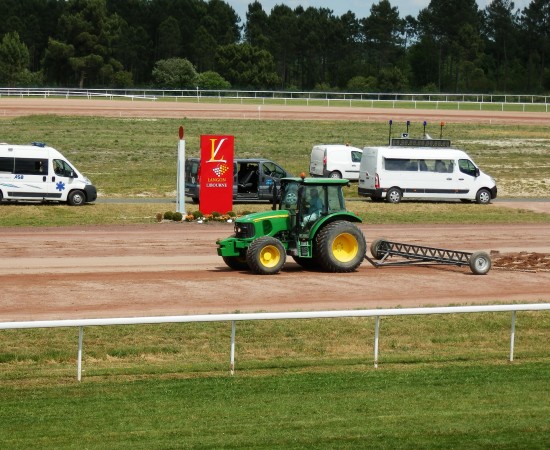 RIGOUR AT THE SERVICE OF COMPETITION
The creation and the renovation of racecourse tracks and training gallops, as well as grass, AWT and sand arenas, require some very specific knowledge of that competition animal endowed with all itssubtleties. From trotting to cross-country facilities right through to flat ones, Sebastien Blondeau's project management – please see also AMO – thus offers specifics kills in terms of drainage and watering – including subirrigation-, and of the choice and the installing of rails or of the management of crossfalls and so on…
RESPECTING ENVIRONMENT
Be it for the creation of the cross country course for the World Equestrian Games in Le Pin, the tracks and the stalls of the new racecourse in Pornichet, both the Equestrian Stadium and the trotting track in Vichy, as well as for the arena for the Mondial du Lion or for the flat grass gallop in Salon-de-Provence, SB Tracks Design can also handle with complex projects that would include the framework of the water law(Loi sur l'eau) and « Natura 2000 ».
WHO IS SEBASTIEN BLONDEAU?
With a degree in « Arts et Métiers » and a lover of equestrian sports in all its aspects, Sebastien Blondeau had been learning his job as a project manager in the Haras Nationaux for six years, enabling him to work on various projects and to meet many professionals who knew sport surfaces destined for horses.
Since 2008, he has been perfecting his experience, day afte rday, carrying out one project after another, so as to meet your need accurately, whatever the sport, and with the best value for money. Without admittedly rules of the art or norms, his references are particularly valuable, and all are enhanced by the trust his clients put in him. Available and mobile, Sebastien Blondeau islocated in an area both strategic for horse facilities and rich in a multidisciplinary horse culture.